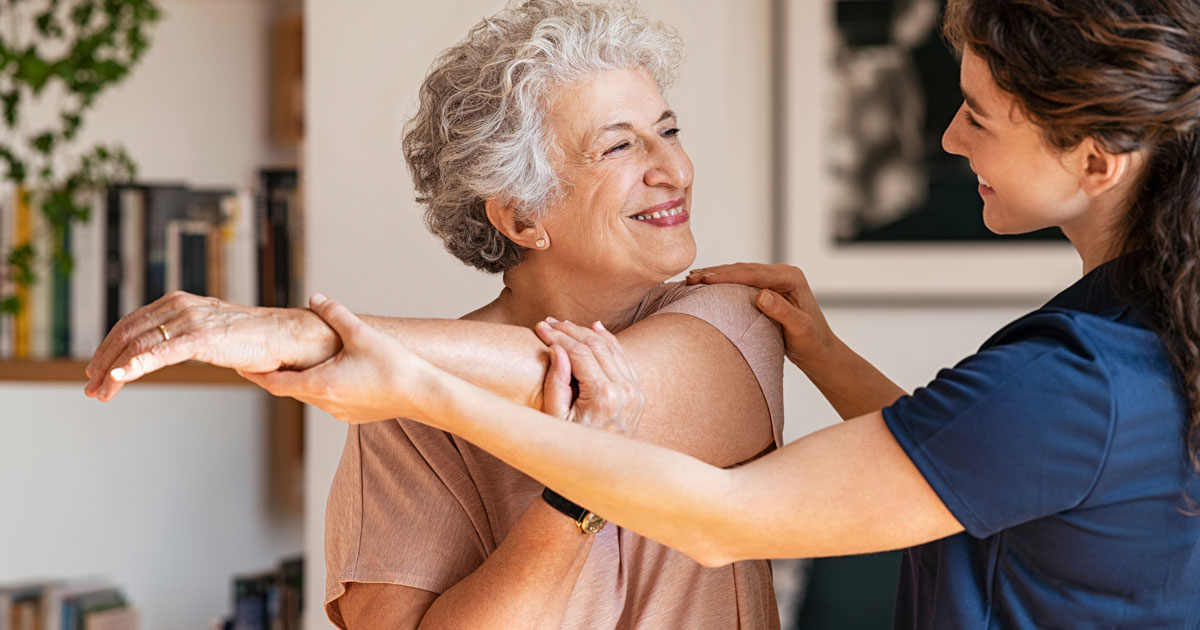 For many older adults, physical therapy is an expected part of their lives. Whether they seek physical therapy services because of a specific injury or they just need to go through treatment in order to maintain their day to day independence, it is important that they have a clear understanding of their options.
The main methods available to people in need of a physical therapist are to visit a clinic to see either a contractor or an in house physical therapist, or to have a physical therapist come to your home. Seeking treatment in a clinic and at home are both great options, but many people find that at-home physical therapy is better. Here is what you need to know.
Visiting a Physical Therapist
There are plenty of reasons that someone would prefer to leave their homes for physical therapy. That is because going into a clinic has certain advantages that are hard to match at home. The most significant of those advantages is that a clinic is more likely to have the specialized equipment that is necessary for people with needs that are specific to their condition. This kind of equipment can be too expensive for many people, and even for those who can afford it, it is not always feasible to fit that equipment into their space at home.
People going to a clinic have two options when it comes to the type of physical therapist they can have. On the one hand, they can find an independent physical therapist and work with them on a contract basis. That person can meet them at the gym or clinic and work through the treatment plan with them from there.
Alternatively, some clinics have an in-house team of physical therapists. The main draw for this option is that in-house therapists generally have better organizational support for their work than contractors from an agency. Furthermore, in the event of a scheduling conflict, there is still someone on staff who you can work with. A team can also offer a more robust perspective on your condition than an individual therapist.
Reasons At-Home Physical Therapy Is Better
Despite the benefits of traveling into a clinic, many people find that receiving their treatment from the comfort of their own home is the best option for them. At-home care provides advantages that are simply not available in a clinical environment.
Comfort and Familiarity
When compared with seeking treatment in a medical facility, in-home health care gives patients a setting that they understand completely. There are no front desks to consult, no unknown corridors to navigate, and no confusion about whether or not you are in the right place. And since they are already where they are supposed to be, there is less pressure around showing up on time and making sure that you have everything you need. This can make the process feel a lot less stressful for patients.
Independence and Control
In-home physical therapy allows people to exercise greater control over the process because they are the authorities over their own space. They also get immediate practice with improving their day to day living, and this affords them a more independent lifestyle.
Many clinical therapeutic activities are generalized so that older adults can become more effective at managing any type of daily task — like moving a chair or climbing a staircase. But some people's concerns are more specific — they need to be able to move their chair and climb their staircase. Physical therapists who work with patients in their lived environment can help them overcome some of the biggest obstacles to independence in their lives.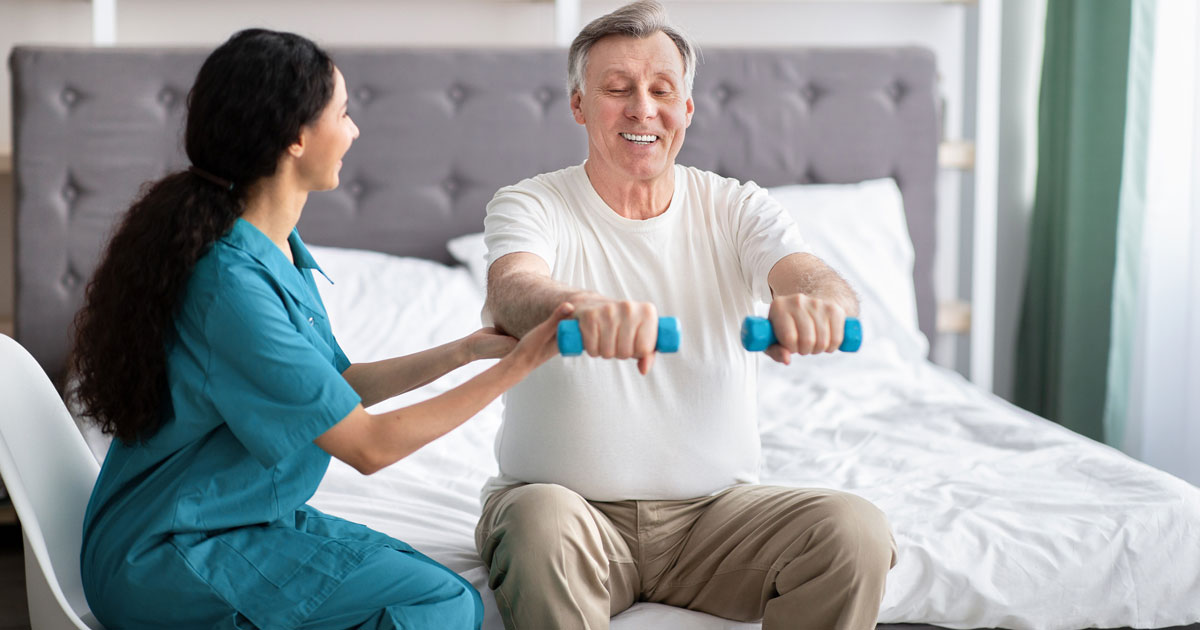 One-on-One Care
Patients who travel into a clinic are likely to be there at the same time as others who are seeking similar physical therapy services. This can be a distraction both to patients and their therapist. Home physical therapy services avoid this risk because the only people who will be present during the session are the people you invite.
Family Involvement
The last benefit of at-home physical therapy is that you can invite other people to support you through the process. Having a family member or a friend attend physical therapy sessions with you can be a great way to ensure that important information is recorded, and having someone there who cares about you can be a powerful motivator that keeps patients on the path to recovery.
Potential Challenges
As mentioned above, at-home care does have its limitations that are important to consider. Some of the reasons for that are, in fact, the inverse of the benefits. For example, people are more comfortable in their own homes, but that does not mean that having someone in their personal space is a stress free experience. Similarly, a person's home is where they feel the most comfortable, but physical therapy is often uncomfortable. It can feel strange to have those two facts working against each other.
The other potential issues a patient can run into are more formal. Home physical therapy can feel more casual, and that can lead to a less structured approach to treatment than a clinical environment. Furthermore, gyms and clinicas are more likely to have the equipment necessary to ensure that the sessions are as effective as possible.
Conclusion
As home health care becomes more and more prevalent, the bounds of traditional physical therapy are expanding to accommodate patients who would prefer not to travel into a clinic. A patient's mobility might prohibit them from leaving their houses, and many homebound patients require healthcare professionals to come to them in order to have reliable access to treatment and the healing process.
At Keystone Health, we understand the value of being able to come to a patient's home. Many patients depend on home health care, and we are proud to offer them the services they need all across the greater Boise area. If you or a loved one is searching for help with physical therapy, start our New Patient Process today so that one of our skilled team members can support you through every step of the way.