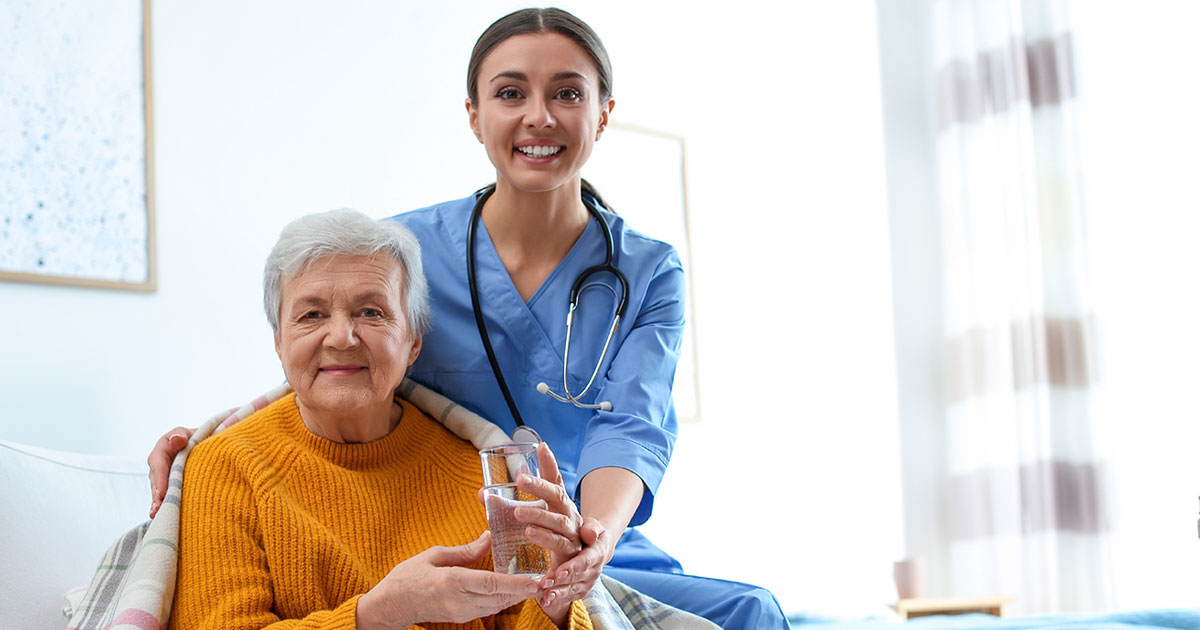 What Is Palliative Care?
Palliative care is a medical specialty that focuses on broadly improving quality of life and providing comfort to people of all ages with serious, chronic, and life-threatening illnesses. This is achieved by reducing the symptoms of disease, unwanted side effects of treatment, pain, and stress. Some refer to palliative care as supportive care, symptom management, or comfort care, as its primary focus is on preventing and alleviating suffering.
The palliative care approach is intended to treat the person as a whole, including emotional and social support alongside caring for the physical aspects of an illness. A palliative care team may include a nurse, physician, and social worker, and oftentimes a psychologist or psychiatrist, physical or occupational therapist, and other specialists depending on a patient's needs. If family members are heavily involved in care, palliative care at home can help relieve some of their burden but can also provide caregivers with education, support, and assistance to make their lives easier.
What Is Hospice Care?
Hospice and palliative care are similar in that they both are special medical services that focus on quality of life and comfort care for their patients. The difference between palliative care vs. hospice is primarily that hospice is intended to provide compassionate care for patients and their family caregivers in the last phases of an incurable disease or life-limiting illness. Hospice care also covers treatments for symptom control or pain relief, medical equipment and supplies, and additional services to manage symptoms related to the patient's condition during this end-of-life phase.
Hospice care is utilized when a disease or terminal illness advances to the point when curative measures have been exhausted and it is determined that treatment can no longer cure it. Typically, hospice care typically begins after a patient has received a prognosis of having six months or less to live. Hospice patients who live beyond the expected six months are still able to receive hospice care if it is determined by the hospice medical director or doctor that they are terminally ill.
Having hospice care often allows a patient the ability to remain in the comfort of their own home. There will usually be a hospice care team that may include a nurse, home health aides, a social worker, the hospice chaplain, and the hospice physician. Regular visits from a hospice nurse provide necessary medical assistance as well as consistent social interaction for a patient. It is worth noting that hospice care does not exclusively occur at home, but can take place in inpatient settings such as assisted living communities, nursing homes, hospitals, and specialized centers for hospice care.
When Should Someone Be Offered Palliative Care?
While palliative care can begin at any stage of an illness, it can be considered at the onset of a serious diagnosis as part of the efforts to manage, cure, or treat a disease. Palliative care may also be utilized throughout treatment. It is important to note that palliative care is not a replacement for regular doctors or treatments, but instead can be conducted alongside the care already being received. Palliative doctors can coordinate with other doctors to provide assistance with challenging medical decisions regarding various treatments (and also help navigate the healthcare system).
How Long Can You Be in Palliative Care?
Time ranges for receiving palliative care can vary dramatically from patient to patient and have no set duration. While patients may begin palliative care as soon as they have received a diagnosis of a serious illness, it will typically coincide with pursuing treatments and a cure for their ailments. As a patient's health improves and they overcome an illness, they can move out of palliative care. Alternatively, a patient with a chronic disease may move in and out of palliative care with fluctuations in their health. With this in mind, palliative care is a service that could potentially be provided for a few months to even several years. Since these timelines can be fluid and unpredictable, palliative care in the home can be an excellent option.
Does End of Life Care Include Palliative Care?
While hospice and palliative care may play different roles in a patient's treatment journey, they can be used strategically during the final months of life to continue providing comfort and care for a patient. A patient is typically eligible for hospice care if a diagnosis determines they have six months or less to live; however, it is common for patients to not receive hospice care until the final weeks or days of their life, depriving them of months of helpful care.
Palliative care, on the other hand, may be initiated when an illness is serious but not yet considered to be life threatening. Still, some wonder, "Does palliative care mean death?" Palliative care is provided in urgent health situations that ultimately could lead to death, but it is not end-of-life care. Palliative care can transition into hospice care if a treatment plan for a disease has been exhausted and unsuccessful. Alternatively, a palliative care team could continue treating a patient with an increased emphasis on comfort care up until a patient's final days, but this is less common.
Does Insurance Cover Palliative Care and Hospice Care?
In most instances, private insurance plans will cover palliative care and hospice care for those who are expected to only have months to live; however, approximately 90 percent of hospice patients utilize Medicare and Medicaid to cover their palliative care and hospice expenses.
Medicare and Medicaid will usually cover palliative care services in a nursing home, hospital, or hospice facility. If a patient is receiving palliative care without hospice care, it is likely they will owe the standard out-of-pocket costs outlined by Medicare. For hospice care (which may include palliative services), Medicare may cover the costs in full if the patient has Medicare Part A and meets the proper eligibility requirements. Regardless of if the patient has Medicare, Medicaid, or private insurance, it is important for patients to confirm coverage details directly with their insurance provider.
Hospice vs. Palliative Care
It is expected that there will be confusion on the key differences between hospice vs. palliative care. To provide a clear distinction between the core principles of hospice and palliative care, here are a few things to keep in mind:
Palliative Care: Timing, Outlook & Objective
Timing: May begin at diagnosis of serious illness
Outlook: Does not replace other treatment plans that might cure an illness but is used in collaboration with them in an effort to make a recovery
Objective: Focuses on comfort, easing pain, emotional well-being, managing side effects of treatments, and improving quality of life
Hospice Care: Timing, Outlook & Objective
Timing: Typically begins after receiving a diagnosis of six months or less left to live
Outlook: Intended for patients that are not expected to recover from their condition
Objective: Focuses on easing pain, symptom management, and helping families prepare for the patient's final days
Conclusion
Hospice and palliative care are intertwined as treatment and management options for people facing serious illnesses. Depending on a patient's medical situation, they may receive treatment from either palliative or hospice providers, or both at one point or another.
Choosing the right healthcare provider is an important decision that could have a significant impact on a patient's experience for many months to come. If you or someone you love is considering the need for in-home care to combat or manage a serious illness, our team of nurse practitioners at Keystone Wound Care is here to help. Please contact us today for a free consultation.