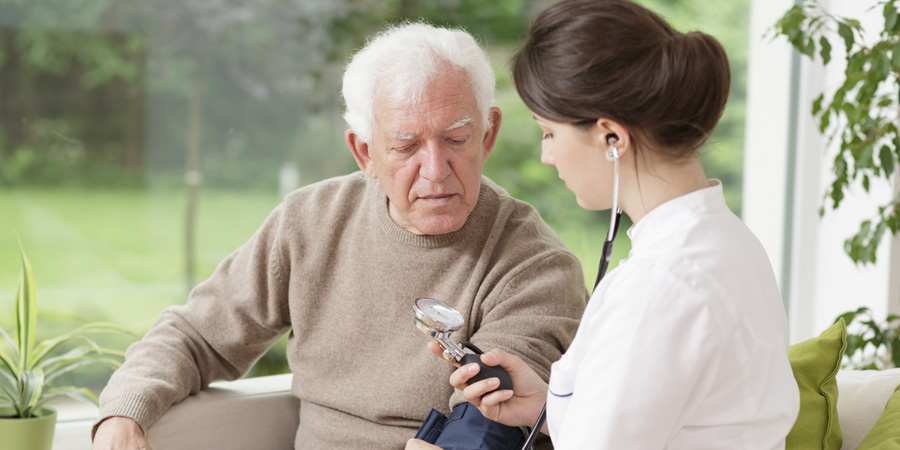 Memory loss is a normal part of aging, at least to some degree. According to the National Institutes of Health (NIH), as many as 40% of individuals over the age of 65 have some level of memory impairment, which equates to about 16 million people in the United States alone. For 1% of those individuals each year, however, that impairment will progress to dementia.
Dementia is an umbrella term for various conditions that cause a decline in cognitive ability severe enough to interfere with daily life. Alzheimer's disease is the most common type of dementia, affecting an estimated 5.5 million Americans. It is the sixth leading cause of death in the United States, killing someone every 66 seconds and claiming more lives than breast cancer and prostate cancer combined.
Perhaps unsurprisingly, caring for Alzheimer's and dementia patients can take its toll on caregivers, often resulting in serious physical and mental health consequences. In 2016 alone, the Alzheimer's Association estimates that more than 15 million caregivers in America provided 18.2 billion hours of unpaid care and support for loved ones with Alzheimer's (which, had it been paid, would cost more than $230 billion).
At some point, there may come a time – through no fault of your own – when you are no longer able to provide your loved one with sufficient care on your own. It is important to learn to recognize the signs and stages of memory impairment to help determine when it might be best to seek memory care.
Related: A Primer to Caring for Alzheimer's & Dementia Patients
How Dementia Develops Over Time
Acute illnesses like strep throat or appendicitis come on quickly and, often, severely. Chronic diseases, on the other hand, develop slowly over time, which can make them difficult to detect.
Dementia is a chronic disease that progresses over a period of years and, in the early stages, initial symptoms may be subtle enough that they are not easily noticed.
No symptoms and no signs of cognitive decline is the first of the seven stages of dementia. (In other words, no decline of note.) During the second stage of dementia, individuals experience very mild cognitive decline and a slight degree of memory loss, but it is considered a normal consequence of aging. During this stage, you may notice that your loved one has trouble with names but remembers them later, or that they misplace objects around the house but eventually remember where they left them. It is not until the third stage of dementia that the individual's level of forgetfulness becomes a concern.
In addition to increased forgetfulness, dementia may cause difficulty concentrating and a decreased ability to work or hold a conversation. You may notice that your loved one has trouble finding the right words or they get turned around more easily than they used to. This stage can last for seven years or more, and it is not technically considered dementia until the next stage, stage four, in which memory loss and other aspects of cognitive decline begin to impair the individual's ability to execute everyday tasks. This is the stage during which you may begin to ask yourself whether it might be time to see outside help.
Is It Time to Consider Memory Care?
From the time your loved one begins to develop dementia until the stage when self-care starts to become difficult, it could take 10 years or more. At what point do you seek help? Here are some of the signs it may be time to consider memory care:
Your loved one has trouble with hygiene and basic self-care
Your loved one is no longer able to leave the home due to unpredictable behavior
Your loved one is no longer able to hold a relevant conversation
You worry about your loved one neglecting their finances
Your loved one exhibits concerning physical changes like weight loss or frailty
You find yourself worrying about your loved one and their safety at home
Each of these signs is concerning in its own way, but they all highlight one particular issue: your loved one's cognitive ability has declined to the point that they are no longer able to safely live alone.
If you are honest with yourself, you may identify one more telling sign: your loved one's needs have exceeded your own caregiving abilities. If they can no longer take care of basic needs, such as feeding and hygiene, it is time to seek outside help. Realizing that your caregiving ability may no longer be sufficient can be difficult to accept. The idea of seeking outside help (or, in some cases, asking your loved one to leave their home for an assisted care facility) is heartbreaking and, to some degree, you may feel as though you are giving up or that you are somehow a failure for not being able to do the work by yourself.
That is not the case; however, if you have even the slightest doubt in your ability to provide the level of care needed, you need to seek assistance.
Get additional information about dementia care.
How to Become a House Call Patient
Located in Idaho? The first step to becoming a house call patient with Keystone is to complete the New Patient Form and either fax it or upload it through our secure, HIPAA-compliant form. Click below to get started.