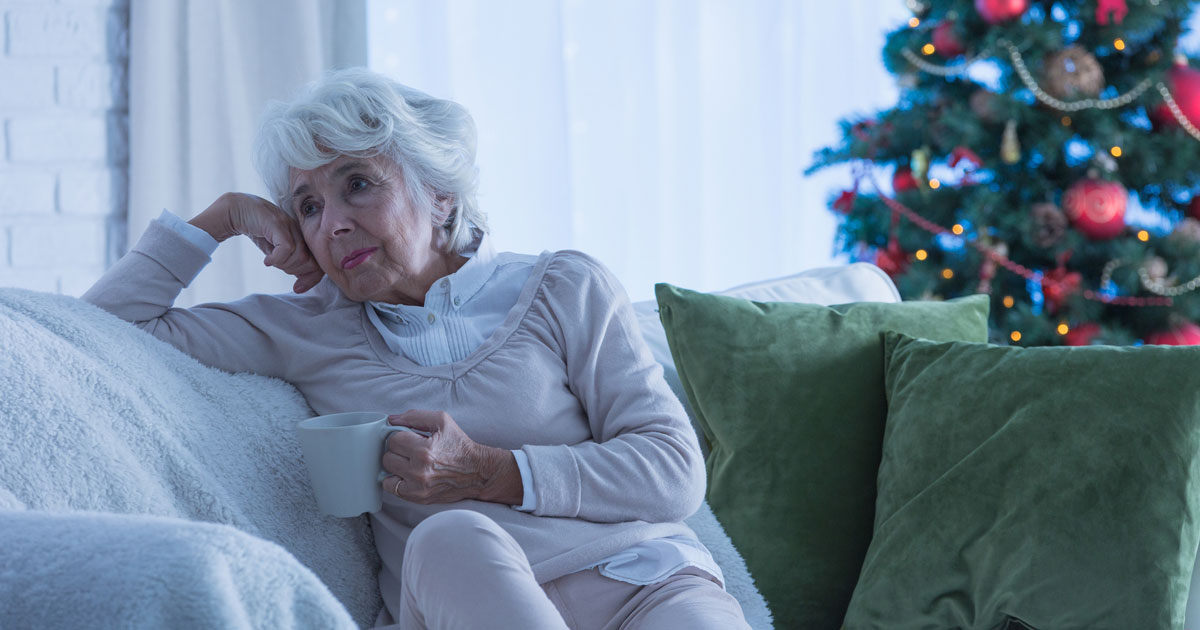 The holidays are a special time for being with friends and family members, but they can be difficult for older adults with limited mobility who have limited engagement with their family and community. Keeping senior citizens active and involved during this season is crucial for both their physical and mental wellbeing, and a little time and care can go a long way.
If you have a loved one who is homebound, you can make their holiday season a little more special with a thoughtful or practical gift and some planned group activities.
Choosing the Right Gifts for Homebound Adults
While you would be the most informed on the specific likes and dislikes of the senior family member in your care, coming up with the perfect gift can be a challenge for anyone. The best gifts for seniors are not always limited to essential items, and the difference that can be made by a simple thoughtful gift might surprise you.
If you feel a little lost and are not sure what to get for your older family, there are more than a few gift ideas to consider as the holidays approach.
Best Gifts for Comfort
Especially in the colder months, feeling cozy and comfortable at home can make a huge difference in a person's mood, and our older loved ones are no exception. There are a lot of great gifts for seniors you can give to the homebound adult in your life to bring them a little more comfort in their daily lives.
Heated Blanket
There are few things that feed the soul as well as sitting under a warm electric blanket and watching the snowfall outside. A heated blanket is a great and simple gift that can bring cheer to those who have a little more trouble getting out of the house.
Weighted Blanket
Similarly to an electric blanket, a weighted blanket is a wonderful gift that can help . Make sure to do your research regarding the ideal weight, however, as a weighted blanket that is too heavy for its user can be incredibly uncomfortable.
Socks and Slippers
As many can attest to, socks are just about the worst-case-scenario gift to receive when you are a child. That said, in later years, nice comfortable socks often hit right on the mark. Cozy fleece-lined slippers are also a great way to stay warm and comfortable indoors on days that the house is a little more chilly.
Shower Seat
Especially for older adults who are homebound, one of the things that has the highest impact on mood and morale is the gradual loss of independence as outside assistance becomes more necessary. A shower seat is a great way to help the homebound adult in your life to be more comfortable in the shower, and ideally, be more able to bathe independently when they want to.
Best Gifts for Enrichment
Staying mentally active has numerous health benefits, both physically and mentally, and should be prioritized for seniors, even more so for those who are less able to leave the house to socialize. There are many gifts that can help seniors stay occupied when stuck at home, and can even be fun group activities for the whole family.
Puzzles
At any age, a puzzle is a fun way to pass the time and test your mind. The human brain is constantly looking for and recognizing patterns, and as such there are few feelings as satisfying as successfully completing a puzzle. Perhaps consider having a puzzle made with a favorite photo of your homebound loved one, so they can hang up the puzzle once it is completed.
Word Searches and Crossword Puzzles
Like visual puzzles, word games like word searches and crossword puzzles are great for passing the time during the holidays, and are a fun way to stay sharp and mentally clear. An engaging game is a thoughtful gift that can provide hours of fun.
Smart Home
While not the most personal of gifts, a smart home device is another gift that can be perfect for some homebound seniors. While learning to use new technologies can sometimes be difficult for seniors, having a voice activated assistant to help in making calls, playing music, controlling TV, and more can be a gamechanger. Some of these devices are even programmed to tell jokes and riddles on command, just another way that a smart home can keep homebound adults occupied and entertained.
Personalized Gifts
Like the earlier suggestion to gift your loved one a custom puzzle, these personalized gift ideas are great ways to remind your loved one that they have people in their lives that care about them deeply.
Coffee Mug
Items that get used daily are usually the ideal targets when it comes to giving a personalized gift, since your loved ones can get that spark of joy on a daily basis. A coffee mug with a family portrait, a personal message or note, or even a child's drawing are all things you could have printed on a mug for your loved one.
Scrapbooks
One of the most classic personal gifts for decades, a photo album is a lovely way to tie some memories together. Not only is looking through a scrapbook a lovely activity to do with your loved one, it also gives them the chance to revisit some of the best memories that may rarely cross their minds. At any age, there are few things as touching or nostalgic as looking back on old photos.
Digital Photo Frame
In the same vein as a scrapbook, a digital photo frame is another heartwarming gift you can give your loved one this holiday. Like a full album in one frame, these devices shuffle through preprogrammed images, some of which allow you to update them by phone with ease. Every time your loved one passes by the picture frame, they will have another lovely memory to reminisce over. Some can even be programmed to play music, all depending on the preferences of you and your loved one.
Gift Certificate
While a gift card or certificate is not usually considered to be the most personal gift, there are certainly exceptions. Giving a gift certificate to your loved one's favorite restaurant can be a great way to remind them to treat themselves as the year goes by. Having a small budget that is explicitly set aside for a favorite meal or two can be a wonderful way to increase morale for homebound adults.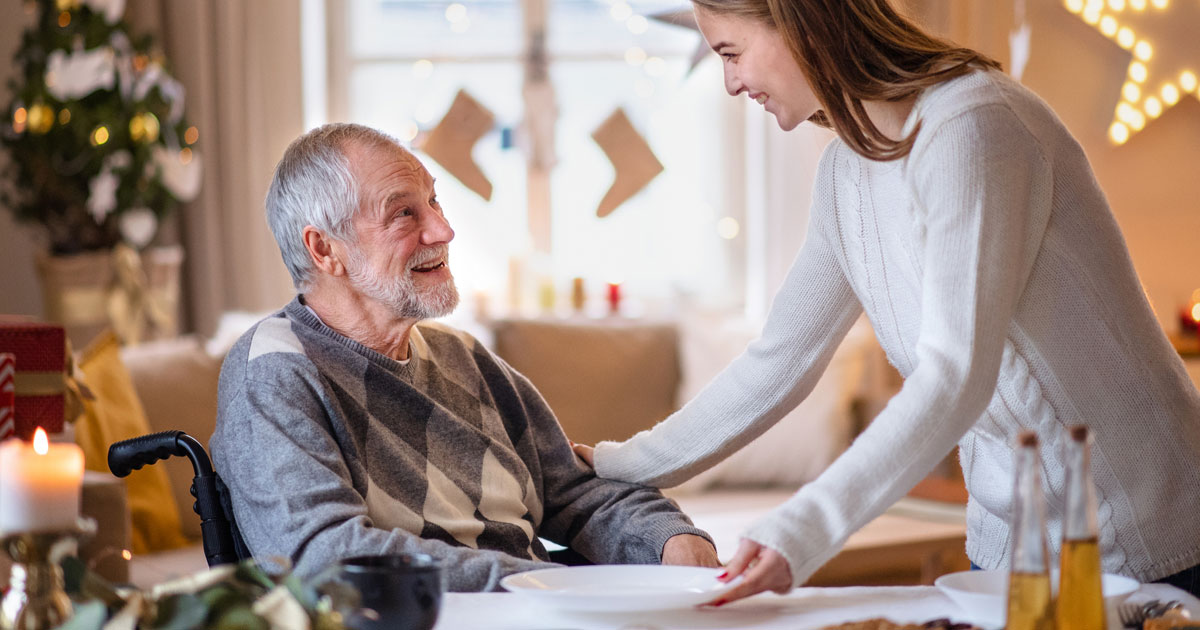 Organizing Activities for Homebound Adults
Social contact can have many health benefits, help retention of mental acuity, reduce stress, and help to . It is important to engage with homebound seniors on a regular basis, ideally on a daily basis during the holidays. As your homebound family members are sure to tell you, simply spending time with their loved ones is often the perfect gift.
Participating in interesting and fun activities with homebound seniors will help them to stay engaged and feel a stronger sense of connection with their friends and family. Luckily, there is no shortage of fun activities you can arrange for your senior family members.
Making Dinner
As is often the case in life, the simplest answer is usually the best. Making dinner together is a fantastic activity for you to participate in with the senior in your life. If they are physically able, the act of cooking a special meal can be a great exercise that can work wonders for an older adult's wellbeing. If not, being around for the process will help them to feel involved and give you more opportunities to bond.
This is especially true during the big meals of the holiday season. Spending time together in the kitchen around the familiar sounds and scents they have known for all their lives is a great way to sharpen mental acuity and curb boredom. Once the cooking is finished friends and family can dine together, share memories, and share some quality time.
Playing Games
Some of these activities can go hand in hand with holiday gifts, such as tabletop games, puzzles, crosswords, and any other games you think the older adult in your life would enjoy. Games can keep seniors engaged both mentally and with their friends and family.
Board games are simple and straightforward, and are great at making even the least enthused player get excited by the end of the game. Playing video games together can also be a great way for seniors to connect with younger family members, and working with technology and fine motor functions can have numerous benefits.
Even solitary activities like sudoku, which employs arithmetic logic, or mind teasers and other individual puzzles can be a great way to keep seniors mentally active. Even though these games are more individualized, playing a game of your own in the same room will still help increase the feeling of inclusion.
Reading and Writing
Reading to and being read to by your senior friend or family member is a great way to bond and stay sharp. One great way to share a fun reading experience is by getting them involved in a book club. A book club is a great way to keep seniors engaged with the material and is a wonderful way to increase social contact in a constructive and fun way.
Seniors with younger family members like grandchildren, nieces, or nephews, can certainly benefit from having the opportunity to read to them. Having this generational connection is a great way to help seniors get in touch with their sense of purpose, which can often become difficult when one is homebound.
Writing activities such as writing poetry, short stories, or even jokes, are another fun way to engage with seniors and exchange ideas openly, as well as exercising the imagination. Writing by hand is also a great physical exercise for some with mobility issues but typing or digitally recording is perfectly fine as well.
Exercise
Any form of exercise is a great activity to do on a regular basis. If they are able to with your assistance, go on a stroll around the neighborhood, or perhaps to see some local holiday decorations. Taking time with the senior in your care, as recommended by their healthcare provider, can have numerous health benefits. Simply keeping active is what counts more than anything.
Gardening, meditation, tai chi, and yoga are just a few ways that seniors can stay healthy and active in their older age.
Music and Film
Sound is a sense that is tightly knit with memory, and music can often take people back into their deepest memories. Play music they like, and maybe even try to play some basic instruments together, both are wonderful ways to keep seniors mentally engaged and help them to have a fun time with their friends and family.
Movies are another way that seniors and their caregivers can share their joy with one another. Exchanging favorite films or television and spending time watching them together is a great form of , and is just about the simplest activity you could arrange.
Find Creative Hobbies
Doing creative and fun projects is a great activity for all ages. Arts and crafts are fun and simple, and can be done at any skill level. Anything from painting, mosaics, whittling, playing music, or writing are great ways to keep the mind active.
Get Involved in Local Charities
Another way to help seniors maintain a sense of purpose is by giving them a chance to give back. Working with charities to help others is a way that older adults can feel like part of their community, and give them pride in themselves. The holidays can be a crucial time for the mental health of homebound seniors, and it is important that you find ways to keep them involved and active at this time more than any other.
Keystone is committed to giving your family the tailored care it needs. For patients in the greater Boise area in need of home health care, check out our services to get the help you deserve.